Review of the week!
There is no better way to explain what we do in the words of a customer
Review Date: February 05, 2013
Description Of Work:
New High-Efficiency Furnace and Air Conditioner – 6 Months Later and couldn't be happier!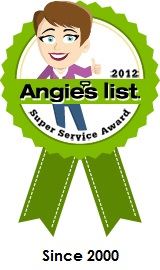 Member Comments:
"Our furnace has worked amazingly through all the cold weather! Utility costs are lower than anticipated. We also are thrilled with our new air conditioner. Standard Heating and Air Conditioning were of two other A-rated companies we received quotes from on Angie's List. Mike M. was the sales representative who came out to our house and led my wife and me through a thorough explanation of what we were purchasing. Mike conducted a Manual J calculation for our home with laser measurements (be sure you always have a contractor perform a Manual J). He also checked that all our existing ductwork was properly installed and appropriate for each space in our house. He even adjusted dampers on ducts to allow for better circulation. No other contractor came close to the high level of professionalism and courtesy that we saw from Mike during the sales visit.
When we asked about a humidifier, Mike said to wait to see if we needed it this winter. So far we don't and that recommendation saved us $500. Standard (Mike) was the only contractor who didn't talk down about fellow competitors. This was a sign to me that they are confident with their work and don't need to pad their reputation artificially.
Though Standard was slightly more expensive than the other contractors (it wasn't too much more), I felt at the time and know now that quality is worth paying for. Having an experienced and trustworthy contractor is the most important part of buying a new furnace and air conditioner. These units must be installed properly to factory specifications. Standard adheres to strict guidelines set by the cities of St. Paul and Minneapolis (even if they are doing work in the suburbs). Contractors that only work in the suburbs don't have to have the same level of training.
We purchased a York high-efficiency variable-speed furnace paired with a high-efficiency air conditioner. York is a highly innovative company and appears to be on the technological edge in the industry. (Mike did offer us a Bryant product as well and let us decide. He didn't push either and helped identify the pros and cons of each.) Mike filled out the paperwork for our utility rebate forms.
On the day of installation, I was amazed at the friendly, punctual service. Standard scheduled all the work carefully so all three service technicians showed up close together which allowed for efficient coordination. The work was finished in only 4 fours. The installation team answered all my questions about operation and maintenance. They even took extra care to clean up at the end.
As I said at the beginning, the furnace is extremely quiet. It heats our house evenly and maintains the temperature with very long cycles. The air conditioner is great too (though with it being close to the end of summer we didn't use it that much) We are looking forward to using it much more this Summer.
I didn't write a review initially because I wanted to see how our furnace really performed in below-zero temperatures. I am extremely pleased and would recommend Standard Heating and Air Conditioning to anyone who appreciates a high-quality product and the value of paying for it. Ask for Mike M to come out and give you a quote. You won't regret it!

PS- Just last week, we received notification from Standard that our 2012 purchase may now qualify for a tax credit due to recent legislation. I was very impressed that they were on top of this and quick to inform their customers. All the paperwork needed to file was included!
Other Questions:
How much did the final cost compare to the original estimate? Right on
How does the value of the work compare to the price? I got more than my money's worth
How far in advance did you schedule the work? within a week
Did you find the company through Angie's List? yes
If yes, which source(s)? website
Why did you choose this contractor? other, Sales Visit, Price, Good Experience
What did you like most about this contractor? Working with Salesman, Mike M. Wonderful communicator.
What did you like least about this contractor? Nothing
What surprises came up during the course of the work? Nothing
What words of advice would you give other members considering this contractor? A Good Contractor is worth their weight in gold.
What words of advice would you give this contractor? Please continue to treat people well as you did to us.
If you are a member of Angie's List, you can access the customer reports of their experience with Standard Heating & Air Conditioning, click here. If you want to read unfiltered reviews, go to our Testimonials page.
Minneapolis Location
Saint Paul Location