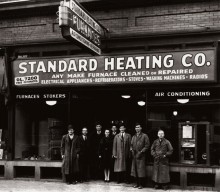 Everyone at Standard Heating & Air Conditioning mourns the recent passing of Mildred Ferrara, the devoted wife of our founder, Tony Ferrara, and beloved mother of nine children, including SHAC leaders Ted and  Todd Ferrara. In addition to raising her large family, Millie worked at SHAC for many years and will be fondly remembered for her dedication and warmth.
Below is the obituary that appeared in the Star Tribune on February 8, 2015:
Ferrara, Mildred (Cunningham) "Millie," formerly of Golden Valley, MN, and Fort Lauderdale, FL, passed away peacefully on 1/30/2015. Preceded in death by her husband Tony after 59 years of marriage, grandson, Dempsey Patrick Mork, son-in-law, Robert Whelan, and daughter-in-law, Kathy Ferrara. Beloved mother, survived by 3 daughters, Patricia Ferrara, Pam Whelan, and Pene Zarnoti. 6 sons, Tim, Tony (Sharon), Bruce (Karen), Ted (Roxanne), Todd, and Terry, and 18 grandchildren and 7 great-grandchildren. Also survived by brothers, Jerry and Darwin Cunningham, and numerous nieces and nephews.
Millie was born in Jessie, ND on May 4, 1918, and came to St. Paul for high school. After marrying Tony, they settled in Golden Valley where she opened her home to family and friends. Her spaghetti dinners were legendary. A devout Catholic, she served as president of the Benilde High School Mothers Club. She also worked for the family business Standard Heating & Air Conditioning Co. After retiring, she lived in Fort Lauderdale, FL for 22 years where her greatest joys with her lifelong love Tony were dancing, golf, bridge, and visits from her family. In 2004 she moved back to Minnesota to be near her family.
A private service will be held in the spring. In lieu of flowers, memorials to the Carondelet Catholic School Scholarship Fund (Mpls) or a memorial of choice. The family thanks Becky's Place and Aging Joyfully in Eden Prairie, and the Good Samaritan Society in Inver Grove Heights for their loving care in her final years.