Staying Comfortable with Standard Heating
What's changed since 1930
In 1930, Tony Ferrara started this company in his parent's backyard. Standard Heating has remained a family-owned-and-operated, fourth-generation business. To learn more about the owners, visit our 'Meet the Owners' page.
Newspaper ad from June 5th of 1930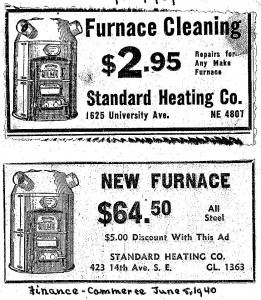 A lot has changed in the heating and cooling industry over the last 80 years. For example, today we have the ability to control heating and cooling equipment remotely. By owning a smartphone or tablet and downloading the app, you could start enjoying the benefits of your Wi-Fi thermostat. Most of us like to feel in control, and one way you could do that is by keeping tabs on the heating and cooling settings in your home.
Although there have been many changes in the industry since 1930, there is something that hasn't changed at Standard Heating & Air Conditioning: consistent, good, old-fashioned service.
Energy Efficiencies and Utility Rebates
It makes sense to update your furnace and air conditioner at the same time because, thanks to today's technology, the heating and the cooling units "talk to each other," and work together to reach maximum efficiency. When we design a heating and cooling system for your home, you can save up to 40% in energy savings. In addition, by reaching those efficiency levels you can take advantage of available manufacturer and utility rebates, as well as Federal Tax Credits.
Thanks to advances in technology, new equipment is more efficient today, but the answer is not one-size-fits-all. In fact, our sales representatives take the time to design the a la carte options for you so you can rely on our expertise. Based on their thorough analysis of your home and needs, we will design the right system for you. To learn more you can visit our educational "ASK THE EXPERT" blog posts on: When is it time to replace the system?, 5 Typical misconceptions when buying new HVAC equipment
Keeping you comfortable
This is our mission: to keep you comfortable. Something that we hear a lot is that the main source of being uncomfortable is uneven temperatures. Cold or hot spots in the house could be caused by the distribution system, incorrectly-sized equipment, etc. One way you can increase your level of comfort with your current system is to run the fan all the time. Thanks to the new technology, running the fan all the time is not expensive because there have been many improvements in the electrical side of the equipment. To learn more, read our educational "Ask the Experts" blog posts on What's the difference between single and variable speed systems?, and What's the HVAC Buzzword? ECM motors.
In the case of a special condition (health problems, allergies, etc) and there is a need to have the right temperature and humidity, our sales representatives will go the extra mile to give you the options and design the system for you. Make the right choice; you'll want to make a decision you can be comfortable with for a long, long time … so choosing an expert heating and cooling company that's been around a long, long time, is a great choice!
There are other options for cooling your home when you don't have any ductwork. This is especially true for older homes. Learn more about Ductless A/C units here.
Minneapolis Location
Saint Paul Location