In most homes across St. Paul and Minneapolis, a functional furnace installed in the property provides a source of reliable heat to the property's occupants throughout the winter months.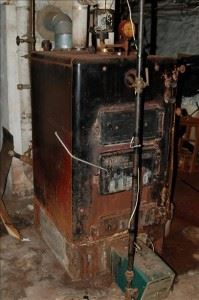 Many different makes and models of furnaces are intended to be used with great results for years, although many furnace manufacturers recommend regular maintenance services on a furnace at the beginning of each cool weather season. This can help the system to function with greater efficiency and decrease the need for repairs throughout the lifespan of the equipment. Standard Heating & Air Conditioning offers maintenance services on all major makes and models of furnaces. However, when a system breaks down, many homeowners wonder if they need a furnace replacement rather than a repair. Standard Heating & Air Conditioning can provide local homeowners with honest answers and affordable rates on a variety of furnace services.
A Professional Inspection
Call Us Today for An Inspection or Installation!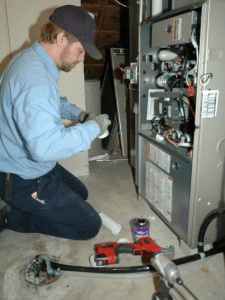 When a homeowner contacts our service team at Standard Heating & Air Conditioning for furnace service, we will conduct a thorough diagnostic inspection of the system. The results of the inspection may indicate that the existing furnace is not repairable, or it may indicate that the repair costs are too high to be cost-effective for the property owner. In other cases, it may reveal that the system can easily be repaired with a quick, easy, and affordable solution. The fact is that in order to accurately determine if a furnace replacement is needed and is beneficial, an accurate diagnosis of the system must be conducted by a skilled, experienced HVAC technician. At Standard Heating & Air Conditioning, we understand that there is rarely a good time to be without the benefit of a functional furnace during the cold weather season in the Twin Cities, and because of this, we provide quick responses to our customers who request repair or replacement assistance. In fact, you should take advantage of our 24/7 heating emergency service!
In some cases, our HVAC technicians will be able to confirm that new furnace installation is imperative. This is often the case when the current system is no longer repairable. In many cases, however, the homeowner will be given the option to repair the existing system or install a new system. There are many benefits that a homeowner may enjoy through the installation of a new system, and our experts at Standard Heating & Air Conditioning can help you to explore the benefits in greater detail. Depending on the age of the current system installed, how well insulated the home is, and how often you use your system, installing a high-efficiency furnace, for example, may help you to enjoy a greener home and save money on your heating costs throughout the cold season. When given the option to repair or replace the system, it is important to consider the overall up-front costs as well as future costs related to maintenance, energy usage, and more.
Choosing the Right Furnace
If you make the decision to proceed with furnace installation rather than repair, the team at Standard Heating & Air Conditioning will help you to learn more about your options. The fact is that choosing the right type of furnace for your needs is imperative. Our company strives to install only high-quality equipment in our customers' homes. Because of this, we carry reputable brands like Bryant and York. There are many models to choose from, and our team will help you to explore all of the options available so that you make a wise buying decision. Factors related to the size of your home and the energy source must be taken into consideration when selecting a furnace that is right for a specific home.
Those who are thinking about installing a new furnace, or who have already firmly decided to proceed with a furnace replacement, want to know how much the equipment and labor will cost. At Standard Heating & Air Conditioning, we strive to keep the cost of furnace installation affordable for our customers. We will take time to learn more about your budget, and we can advise you on the furnace that is best for your home and needs. Keep in mind that some factors may affect the cost of the furnace. For example, larger systems that are designed to heat larger spaces will generally cost more. In addition, a high-efficiency furnace may cost more with an initial up-front cost, but it may be more affordable for you to use over time.
Minneapolis Location
Saint Paul Location