Do You Recycle? We do too!
Recycling heating and cooling equipment requires special handling, and Standard Heating & Air Conditioning is proud of doing the right thing for our customers, our communities, and the environment every time.
Hot water heaters, air conditioners, and furnaces and are sometimes referred to as major appliances. These appliances require a different process of recycling compared to our everyday waste. Large appliances are made of different components and materials. For that reason, it is necessary to dismantle and sort the different materials before even considering recycling. As part of Standard Heating's commitment to the environment, we recycle used equipment free of charge to our customers.
Recycling of Used Equipment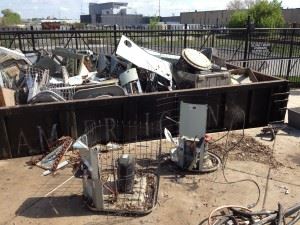 When a customer hires Standard Heating & Air Conditioning for the replacement of their old equipment, we will make sure that they have a great experience with us, including the recycling of their old equipment. Once our installers arrive at the home, they take the existing equipment out and put it in their truck. After retrofitting the new equipment and ensuring its performance, they drive back to our Minneapolis office. The equipment is dismantled and sorted into different materials before being taken to different recycling facilities.
Special Handle of Hazardous Material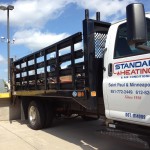 Refrigerants are chemicals used in the compressors of appliances that keep things frozen or cold, such as air conditioners, dehumidifiers, refrigerators, and freezers. In particular, air conditioners contain refrigerant gases that could harm the ozone layer and are dangerous for people, if mishandled. Our technicians have the knowledge and equipment necessary to safely remove a machine's coolant, and transfer it to a container for recycling. The EPA requires companies that recycle this refrigerant to be certified by the regional office (EPA), and Standard Heating ensures that it happens every time. To read more about how we handle refrigerants at Standard Heating, click here.