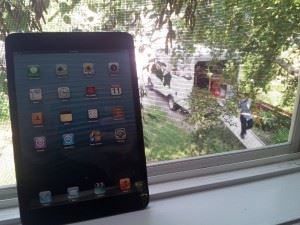 Winner of the June Drawing!
Rich G from Minneapolis called on June 18th to get an estimate on what it would take to install a new Central Air unit. He wanted the A/C to be added to his five-year-old furnace, with the installation of a new thermostat and a whole-home humidifier.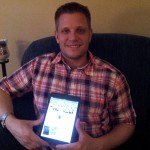 Our Sales Representative, Rich T, visited Rich G on June 27th and went through the whole process of analyzing what would make more sense to do in the customer's situation. The following day, Rich G called to move forward with the installation of a Bryant 113 Air Conditioner. On July 8th, we conducted the drawing for the iPad Mini among all the homeowners who signed up for an in-home estimate on new equipment in June. After the drawing, we contacted Rich G to let him know that the installers were going to be bringing an iPad Mini for him on July 11th when they arrived to install the new equipment!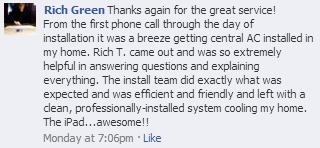 On the day of the installation, Al and Derek showed up in the morning to install the new equipment and to give Rich G the iPad Mini. He sent us a picture of the Standard Heating truck parked in his driveway and his new electronic device. He also wrote, "Thank you very much for the excellent service over the past few weeks. From the first phone call to the installation today, it went flawlessly." He then participated in our 5 For $25 Drive by posting a legitimate testimonial of his experience with Standard and went on to post on Facebook also! (see screenshots).

Our customers rate us 9.2 out of 10 on average! They call us prompt, professional, friendly, reliable, dependable, informative, honest, and polite … but don't take our word for it! Read our unfiltered and unedited customer reviews. When you call Standard, your satisfaction is guaranteed. It's that simple.
Minneapolis Location
Saint Paul Location