Minneapolis Chief of Police, Janeé Harteau, stopped by Standard Heating & Air Conditioning as part of her efforts to reach out to the Minneapolis community.
On June 17th, 2013, Janeé Harteau, the first woman to hold the Chief of Police position in Minneapolis, stopped by our 130 Plymouth Ave N facility to have a conversation with our employees on safety and her work as the head of the Department. The conversation happened in our Training Center, which is also used throughout the year for different community activities (read about community events at Standard).
The Chief of Police initiated the conversation by saying: "I'm trying to get out as much as possible to have conversations with people." She went on to tell us about what is she currently doing in the Police Department. She commented on current crimes and their processes, and she gave everyone at Standard her perspectives on the future of the City and the department. By the end, Chief Janeé provided all Standard Heating employees the opportunity to ask questions and responded to each of them. Some questions asked by Standard Heating employees were about: the election year for Minneapolis, Drugs, North Minneapolis, the use of technology, and the meaning of transparency. Here are a few interesting quotes from our conversation with the Minneapolis Chief of Police: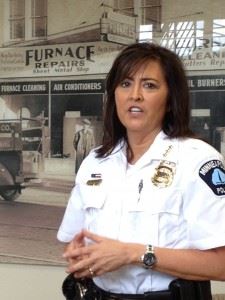 "70% of the crime in Minneapolis is in 5% of our geography."
"I must rely on facts to tell what happened."
"People don't call 911 because they don't know our processes. Anytime something is happening call 911. Even if you don't know, call 911.
As an engaged member of the Twin Cities community, Standard Heating feels grateful to have the opportunity to talk with the Minneapolis Chief Office about her work in Minneapolis.
For more information on the Minneapolis Police Department visit minneapolis.gov 
Minneapolis Location
Saint Paul Location