Our Facilities in Minneapolis & St. Paul
Considered a leader in the industry, Standard Heating & Air Conditioning invested in a new, modern office and warehouse complex in Minneapolis in 2009.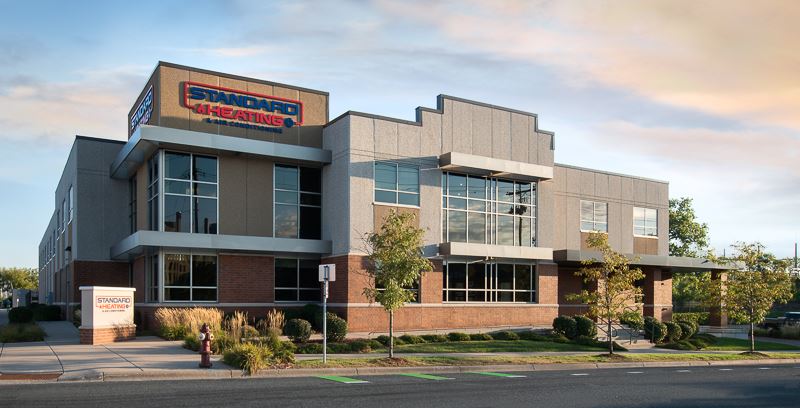 Minneapolis Location
We take our commitment to our employees and customers seriously. In 2009, we opened a 31,000 square foot office and warehouse facility in Minneapolis with a state-of-the-art sheet metal fabrication shop, an EPA-certified Freon recovery room, an expanded shipping and receiving area, and a warehouse with energy-saving features.
Green Initiatives
While planning the new facility, it was important to incorporate energy-saving designs and make environmentally conscious decisions. A result of this process, our facility has an on-site recycling center, motion-sensor lights and large windows to help reduce electricity use, and custom-fit stalls for trucks, which help reduce heat loss from the warehouse during the colder months. We follow strict EPA regulations for collecting and storing refrigerant, and added an isolated space in our facility designed specifically for this purpose.
Fleet
Dozens of vehicles are outfitted for service and installation. Our installation trucks are specially designed as workshops on wheels, which gives our installers the capability to prepare sheet metal on site, rather than making a separate trip back to our warehouse.
Parts Department
Our parts department at the Minneapolis location keeps Bryant, York, and universal parts in stock. We also stock air filters. Our parts department is open to the public during our regular business hours. Visit our products page to learn more about our parts department and the products we stock.
St. Paul Location
Our St. Paul office has moved and is currently available for visit with a scheduled appointment. If you are looking to stop by our St. Paul office, please call our main line and schedule. If you would like to pick up filters, please visit our Minneapolis location or order online through our store.